Company Info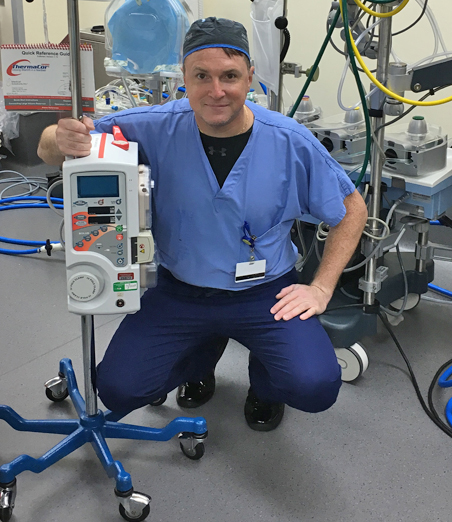 Richard Cartledge MD (Founder)
The ThermaCor Beginning
The ThermaCor 1200 Rapid Infuser was conceived of by two surgeons at a level one trauma center. Drs. Hugh Smisson and Richard Cartledge were on trauma call when a twelve-year-old child was brought in with major injuries from a motor vehicle accident. The child was experiencing severe internal bleeding. The trauma staff was manually squeezing units of blood into her while trying to get their then current rapid infusion system set up. By the time the staff could set up the system and get it operating properly, the patient had died. The surgeons were concerned that the equipment the hospital had was inadequate; so, they investigated other infusion systems in use by major trauma centers. They determined that other facilities were using similar equipment and struggled to get their systems set up and operating quickly, thus discovering the need for a better way to rapidly infuse patients at a normothermic temperature.
Drs. Smisson and Cartledge developed their own rapid infuser known as the ThermaCor 1200 Infuser with two goals in mind. First, make it quick and easy to set up and second, make it simple to operate. Smisson-Cartledge Biomedical was formed, bringing together a team of experts to help them realize their goal. The ThermaCor 1200 is the culmination of this team's work to bring a faster, easier and safer rapid thermal infuser to the rapid infusion market for better patient care.
Overview
Smisson-Cartledge Biomedical, LLC (SCB) is an innovator in clinically superior and economically beneficial therapeutic solutions for the treatment of thermal infusion care.
SCB is a medical device company focused on delivering technologies for providing temperature-controlled fluid therapies. SCB has developed and patented a highly efficient heat transfer process that can heat or cool fluids at a wide range of flow rates through a portable pump and single-use disposable cassettes. SCB has also developed and patented a compact in-line air trap / purging system.
The Company has over fifteen (15) US patents issued and several that are still pending. Their Intellectual Property portfolio primarily covers technologies of portable rapid infusion, high efficiency heat transfer, automated air trapping and elimination and the quick latch disposable cassette.
Smisson-Cartledge Biomedical, LLC is located just outside Atlanta, GA and is privately held.